Align Your Employer Brand and Employee Experience
Optimizing your organization's internal communication strategy is essential to your digital transformation. By improving your strategy, you'll be able to meet the multiple needs of your managers:
Effective internal communications
Enhance your employer brand and company culture
Improving employee integration and retention
Boost productivity
As well as those of your employees:
Helping employees better understand the organization
Quickly access the information and subjects that interest them in the digital environment
Facilitating access and use of the tools available to them
Improving employees' communication by facilitating the sharing of information between different departments and human resources
Our Microsoft 365 and Microsoft Viva Offer: Building a Unified Experience for Your Employees
Victrix has industry leading experience with Microsoft 365 solutions and the Viva suite. We can help you develop collaboration tools and create effective communication channels that meet your organizational needs.
The cornerstones of Victrix's employee platform offering:
Creating a global environment that is accessible and easy to understand:
Navigation and architecture that take account of the employee's entire digital workspace
Simplifying information searches and knowledge sharing:
Shortening the distance between the user and the desired information
Offer a personalized experience:
Pathways and content tailored to different user segments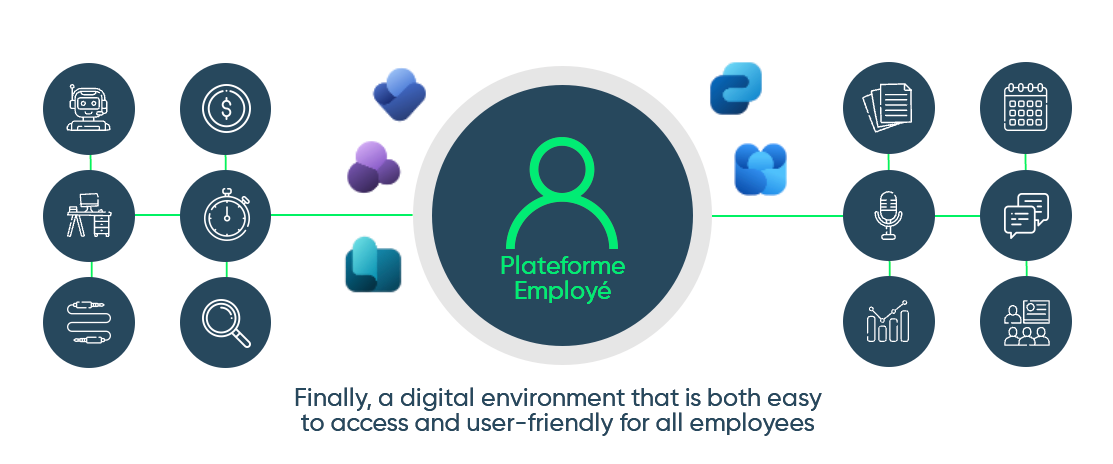 Key Benefits of Our Employee Experience Platform Based on Microsoft 365 and Microsoft Viva
Beyond a simple integration service for company intranet solutions, Victrix offers the development of a platform that is 100% customized to your needs and objectives. By taking advantage of our services, you will benefit from:
Our recognized expertise with Microsoft 365 and Viva solutions (Viva Connections, Viva Engage, Viva Learning, Viva Topics, Viva Goals and Viva Sales)
360° support to build a technologically advanced employee experience platform
A flexible, scalable offering that is configurable to suit your needs
Access to a team of experts in internal comms, application development and process automation
Ultimately, a user-friendly, intuitive employee platform that will revolutionize your internal communications and improve productivity.
With the productivity consultants at Victrix by your side, developing a modern and powerful enterprise communications platform has never been easier.